Between April 2017-2018 the GIVeS team successfully conducted seven training sessions on Geographic Information Systems (GIS), to a total of 141 participants, from 31 different countries in Latin America and the Caribbean, in three different languages.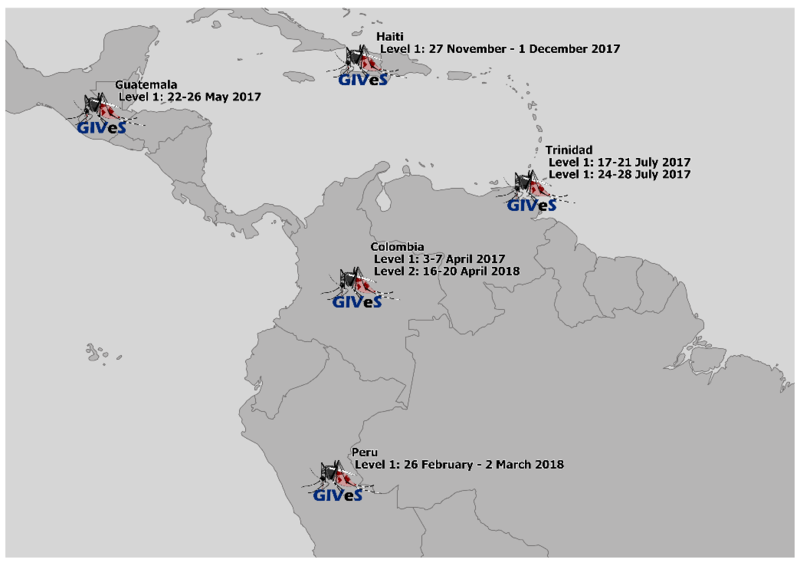 Dates and locations of GIVeS trainings April 2017-2018
How did this start?
In 2016 the pandemic of Zika was declared a public health emergency by the WHO. Zika is a virus transmitted primarily by mosquitoes; symptoms are usually mild, but infection during pregnancy can cause severe birth defects. This widespread outbreak drew attention to the challenges experienced by vector control teams confronted with managing situations such as these on the ground. Map-making and other GIS-related skills fundamental to disease surveillance were identified as lacking amongst control program staff. Improving GIS capacity and use was therefore highlighted as a priority area for intervention.
What did we do?
The GIVeS team conducted a rapid needs assessment to investigate this GIS capacity gap further. Information was gathered from 34 countries in the affected region by means of an online questionnaire.  Responses to these questions were then used to aid in the design of an appropriate curriculum to address the identified gaps in knowledge and skills.
A short course of five days was developed. The curriculum targets beginners. It provides an introduction to fundamental GIS concepts and terminology whilst emphasizing a practical approach, guiding participants through a series of exercises. By the end of the week learners are able to use QGIS to make maps of their own data. Copies of the training materials have been made available here for download, free of charge.
The trainings were thoroughly monitored and evaluated using a mixture of live polling tools, questionnaires, and focus group discussions. These tools enabled the team to test real-time learning to ensure groups were kept together and on track, measure change in knowledge and confidence before and after the course, and to evaluate the course itself to gather feedback to inform and improve future trainings.
How did it go?
The course was very well received. Participants met their objectives and feedback was positive in all areas, a few comments are shared below. Program results have been presented at international conferences and are being submitted for wider publication.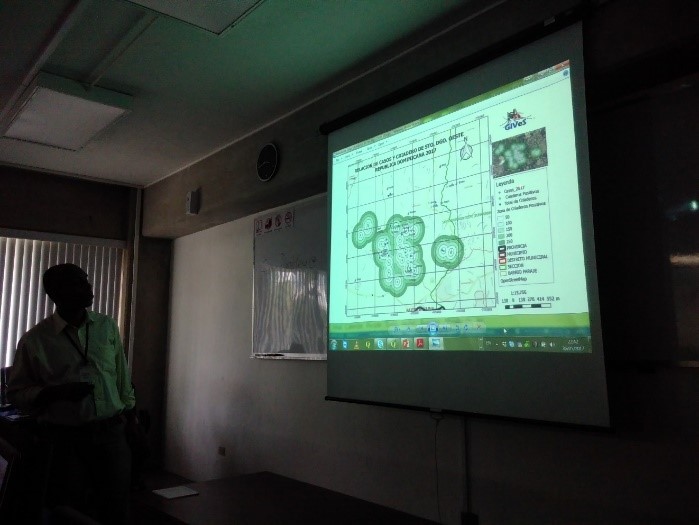 "I sent an email back to [home], and I said, 'Trust me, I've been to many workshops, and this is one where I actually learned something." (laughter)
~Participant from the Caribbean
"The manual was created in a way that... you can, I can see myself taking it back to the office and going step by step and trying to create my own maps."
~Participant from the Caribbean
"We are left with a spark to keep doing things like this."
~Participant from Colombia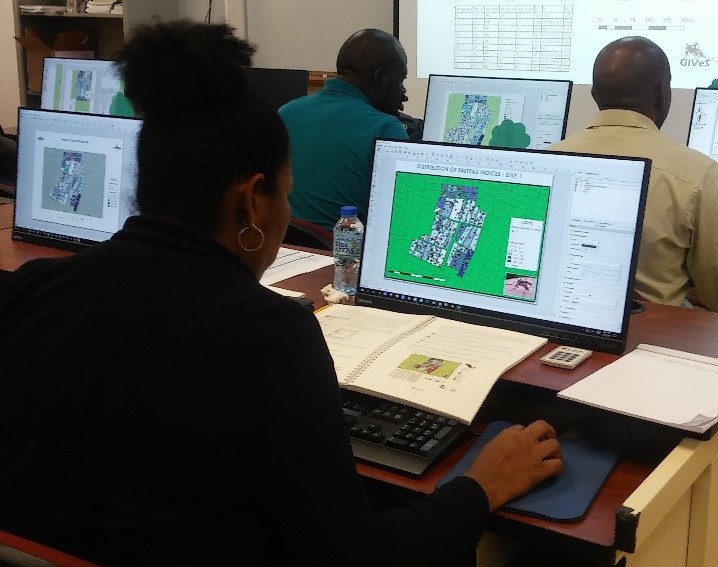 The success of this course created a demand for further trainings, to continue to build on this learning and encourage the skills learned to be applied in people's work. As such a follow-on course was developed. Observations, experiences and feedback from six deliveries of the first course were used to inform the content of this second curriculum. Previous skills were consolidated and considered in more depth and additional tools and topics were introduced. This second course has been run once so far. Feedback was positive and there has been demand from other participants of the first course for follow-up training. Watch this space!
Back to GIVeS main page.