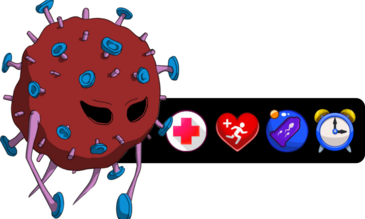 Battle in the Blood (#BitB) is a puzzle and turn-based combat mobile game. Players journey across 90 levels battling the HIV virus and his army of co-infections. Along the way,  they encounter 8 short stories. Each story follows the events leading up to a characters decision to get an HIV test and concludes with a glimpse into their life after a positive diagnosis. A twist in the 8th story allows the player to choose how the story will end.
The game was launched on the Google Play and App Store on the 1st of December 2017 to co-inside with World AIDS Day. The game is 100% free to download with no in-app purchases.
This addictive and fun game is packaged with an important message, raising awareness of HIV treatment and addressing stigma towards people living with HIV. In 2017, it was announced that the Philippines had the fastest growing HIV epidemics in the region, with a majority of new infections among adolescent and young males who have sex with males. Battle in the Blood is situated within a wider approach to improve access to vital health services for this age group. Providing a unique and engaging demand-side intervention within the HIV care cascade. While designed specifically for the Philippines context this concept has relevance and potential on a global scale.
Battle in the Blood was developed and piloted as part of the HIV GET Tested project. The game design was informed by an in-depth formative research phase to identify key enablers and barriers to HIV testing and treatment services among key populations in the Philippines. Demand, acceptability and limited efficacy of the game will be explored through a mixed method feasibility study.
Join the Battle in the Blood Community on Facebook.
Battle in the Blood, we battle as one!