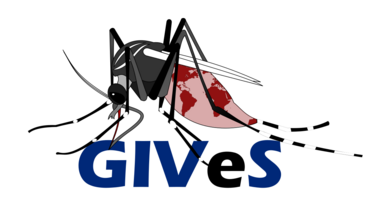 The GIVeS program improves capacity in Geographic Information Systems (GIS) for disease vector surveillance and public health, by developing and delivering accessible training courses targeted at operational staff.
Why GIS? 
The surveillance and control of diseases is inherently spatial. Identifying locations where disease risk is high can enable more effective and efficient prevention and control. Having the capacity to create, manage and present disease risk data can improve evidence-based decision-making. GIS can be used to do this.
About GIVeS
GIVeS offers needs assessment, tailored curriculum design and delivery, real-time monitoring of learning, and thorough course evaluation.
The GIVeS program is a partnership between Emory University's Center for Humanitarian Emergencies, the Liverpool School of Tropical Medicine, and the Integrated Vector Management Team of the Center for Disease Control and Prevention (CDC). The team combines expertise and experience in emergency preparedness, systems strengthening, capacity building, vector control and disease surveillance, GIS and spatial epidemiology. The team has the capacity to deliver trainings in English, French and Spanish.
GIVeS trainings
GIVeS developed and delivered a series of courses in Latin America and the Caribbean in 2017-18 in response to the Zika virus outbreak. In October 2018 a 3 day course was delivered to operational staff from the Elimination8 initiative, working towards Malaria elimination in Southern Africa. Other courses were given in Uganda and Malawi. In 2019, follow-on courses were delivered in Colombia, El Salvador and Trinidad. In Autumn 2019 a one week crash course on mapping for public health was developed and delivered at the Tephinet Global Scientific Conference. 
Comprehensive training materials are created for each GIVeS course, including a detailed manual introducing GIS concepts and providing step-by-step guides to practical exercises, as well as all the data sets required for these exercises. These materials are available free for download from the links below.
GIVeS courses are designed to use free GIS software and applications wherever possible to maximise accessibility and sustainability in resource-limited settings. The materials below are based on QGIS.
Geographic information training resources
QGIS for public health : 1 day crash course (QGIS v3.4 LTR)
Introductory course - 3 days - with Malaria examples (QGIS v3.2)
Introductory course - 5 days - with Aedes examples (QGIS v2.18)
Un curso introductorio de 5 días con ejemplos de Aedes (QGIS v2.18)
Instructional material is made available under the Creative Commons Attribution license.
Contact
This project is ongoing and further courses are planned. If you would like to know more please contact us at gives@lstmed.ac.uk or CHEInfo@emory.edu.